Participation is easy:
1. Fill your basket with all the best food (meal kits, fresher than fresh produce, meal, sustainable meats and seafood, kid-friendly staples and more) for same day delivery on Good Eggs
2. At checkout, enter the code BACICH17 or KENT17 to get $25 (up from $15) off and automatically enroll
3. Enjoy! You just discovered the easiest and most delicious way to support Bacich and Kent. All of your orders, during October and November will automatically count toward the fundraiser that gives 10% back.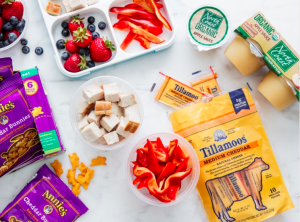 We've noticed that our kids' school lunchboxes are just a round-trip ticket for apples, bananas and sandwiches. You too? Meet a changing seasonal assortment of fresh-cut fruit and veggies paired with healthy snacks and protein like cubed turkey, hard-boiled eggs or summer sausage. It's a lunch (and snack time, too!) solution for a whole week of bento box-style lunches, letting you and your kid keep it fresh, healthy, and delicious every day.